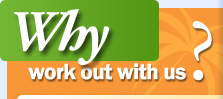 Premier, private fitness studio

Individualized programs

Motivating atmosphere

Certified trainers

Custom-tailored exercise programs


Fascial Stretch Therapy
Fascial Stretch Therapy® (FST) can get you back in action so you can fully enjoy your life. FST is a unique system that utilizes specific stretching techniques to dramatically improve flexibility, increase joint space, enhance muscle activation and relaxation, relieve chronic pain from muscle tension or compressed joint capsules, eliminate trigger points, and improve posture.
Improve Function
Reduce Pain
Enhance Golf & Tennis Performance
Fascial Stretch Therapy® (FST) is based on original research, neuroscience and emerging new discoveries in Fascia. It is a Special and Specific technique that addresses the nervous system and joint capsules to help our muscles (that are surrounded by Fascia) to function better, to relieve pain and minor structural issues of the body.
Bet you didn't know …
47% of your Flexibility is locked up in your joint capsule
42% of your Flexibility potential is in your fascia
Stretching can reduce or eliminate tight muscles, stiff joints, and chronic pain
Stretching improves your circulation
Stretching makes you feel and look younger
Stretching makes you stronger
1 hour




1.5 hours




30 min.

(sports specific warm-up)

$100




$140




$55
We also provide In-Home training and consulting.
Please note that prices are subject to change.

Don't let your life pass you by while you suffer from pain. You'll see improvement with just one session. Clients who get stretched regularly see larger and longer lasting gains!